Best Micro-Nanoimage Award
Description
EuroSOI-ULIS Conference intends to hold a competition for the best nano-image of the Conference. You are welcome to submit any kind of nano-image, including microscopy nano-images (Optical, Electron, Scanning probe, etc.), and schematics of original devices etc., obtained in the course of your research. Together with the image, please send a short description on what is really the image, but also on what one could imagine of it by just looking at the image. For the rest, we trust your imagination...
One image per participant is allowed.
Deadline: March 31, 2017
The Award recipient will receive an Award certificate and free tickets to visit archaelogical sites in the city center.

Terms and Conditions
All contributed images will be projected during the Conference dinner.
An award will be attributed to the winners (to be announced at the Conference dinner)
The submitted image constitutes a part of the contributor's personal research.
Permission is granted to the "EuroSOI - ULIS 2017" conference for projecting the images.
Contributors must be registered conference attendees.
One contribution per participant is allowed.
Contributions should be uploaded via the conference website. Please fill in the PowerPoint template available on the web.
All subjects and imaging techniques are qualified.
False-color imaging or any alteration of the image quantitative information is not allowed.
The image scale must be indicated.
Contribution deadline is March 31, 2017 .
Example
The image below is an example of a filled form.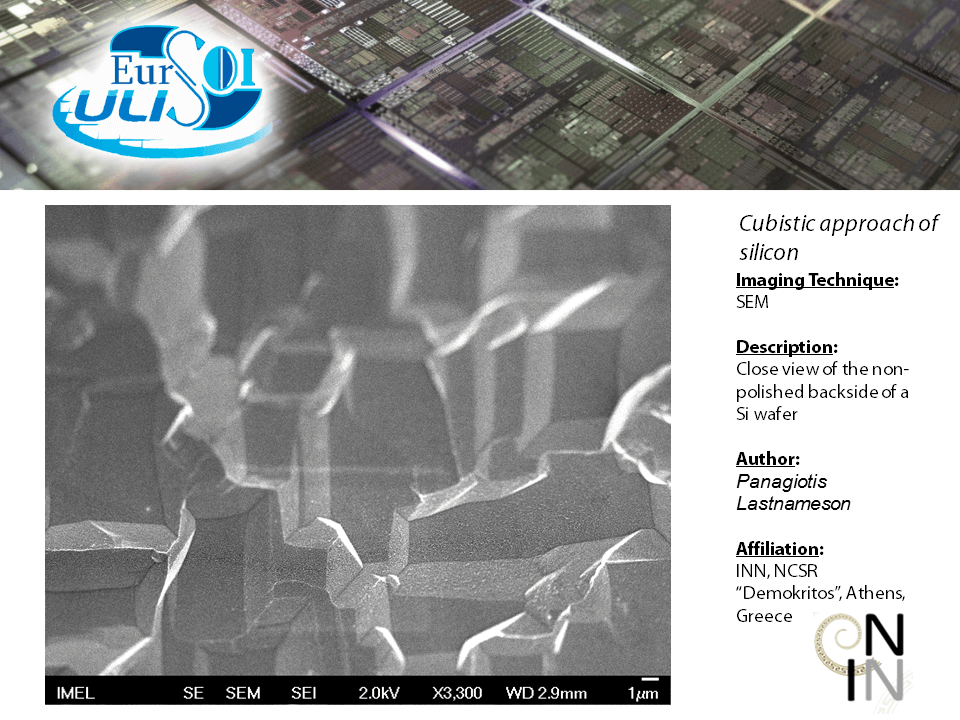 Instructions
Submission will be done through the following process:
Download the PowerPoint template file here.
Place your micro- nano-image in the PowerPoint template. Your details should also be filled.
Comments may be added on the notes section of the .ppt file.
Name your file as Institute-Last Name.ppt (example: INN-Lastnameson.ppt)".
Submit your file in this form:


The submission form is currently unavailable.