Welcome Reception Location Details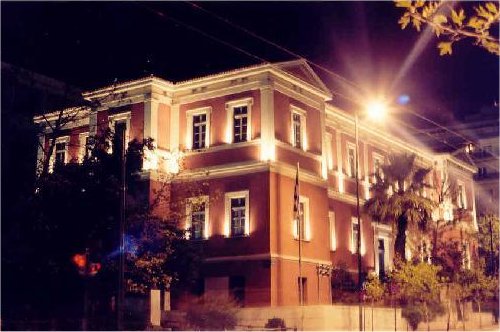 Welcome Reception
The Welcome Reception will be held in the Kostis Palamas building of the National Kapodestrian University of Athens. Τhe neoclassical building "Kostis Palamas" was erected in 1857 and initially, it operated as a private Lyceum with the name "Greek Educational Establishment". It got renovated in 2004 and since then, it has operated as a Cultural Centre – Lounge.
The main function of the Centre is to host cultural events, such as conjectural exhibitions, lectures addressed to small audiences, round tables, book presentations, organization of conferences/meetings, symposiums, receptions, dinners, official meals, etc. At the same time, the Centre operates on a daily basis as a meeting and cooperation place for the members of the University Faculty as a Lounge offering places especially tailored for reading, discussion and information. There is also a restaurant in the Centre, operating daily, which is called: "The Kapodistrian".
Instruction on how to go from Conference Venue to Conference reception
Conference Dinner Location Details
Conference Dinner
Dionysos Zonar's is located in a prominent position on the outskirts of the Acropolis, having a panoramic view of the sacred rock of the Acropolis and the Odeon of Herodes Atticus (Herodion). It combines a prime location with stylish renovated space and the high quality of Greek modern cuisine. Counting over 50 years of operation, the restaurant Dionysos, has attracted great personalities from all over the world. The restaurant is a brilliant work of post-war architecture. The design was made by the pioneering architect Prokopios Vasiliadis in the early 60s.
Instruction on how to go from Conference Venue to Conference Dinner